YOU HAVE THE POWER TO BRING BACK BATTLESHIP CRAFT! SIGN THIS PETITION I MADE ON CHANGE.ORG!
CHANGE.ORG IS A MORE POPULAR PETITION WEBSITE THAN IPETITON, SO THATS WHY IM POSTING THIS HERE.
SIGN HERE:
https://www.change.org/p/google-inc-bring-battleship-craft-back-to-the-app-store?just_created=true
(Dont kill me for putting this here admins. You can remove the caps.)
UPDATES ON THE PETITION
Just recently, (with that being April 14, 2014) only 10 people have signed the petition. Which has given me, and by reading this, most of you. Some pain.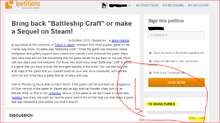 SIGN THE PETITION GUYS! Bring back Battleship Craft!
I, myself have contributed to this , and I want you guys to give to it too. http://www.ipetitions.com/petition/bring-back-battleship-craft-or-make-a-sequel-on
Link title==WRITE YOUR NAME IF YOU HAVE SIGNED THE PETITION==
EnderHoss
CaptainFailure
Caleb253
Pilotmario
Sesomblack
Warwolf
Captain rudder guy Kevin
Harmonmj13-petition creator
USS Zumwalt DDG 1000
Stryker 86
Scoutwulf575
Marcboy99
Garrymarc
AdmiralAgrippa5199
gerome88
Captain Dwindleton
ProudAmerican1776
Yehezkiel Arly
Oicraftian
adameros
OrangeNinja46
Robrobrob3
joshuaroars
Sapphiros/SapphirosGLR
TRS