Battleship Scorpius II

Battleship Scorpius used as an escort

Type

Battleship Escort

Horsepower and
Speed

55.0 kt

Shooting Range and
Strength

13.5 km

Toughness and
Armor

132.0 GJ @ 298.3 MJ

Stability

57.0

Displacement

29576 tons

Dimensions

125.0 x 30.0 x 26.7

Sight

18.1 km

Propulsion

(2) Propellers, (2) Rudders powered by (2) Large Boilers

Armament

(2) 38cm guns; (2) Oxygen torpedo tubes (1) 30.5cm gun+

Battleship Scorpius II is a fast and agile escort and fast battleship that appears in Duel Lv.8, Aircraft Carrier Lv.1 & 2.
About the Scorpius II
It has been known for it's agility on the battlefield and for it's speed, which makes it very difficult for Sailors to destroy, even the most experienced Admirals.
It has been used as an escort two times, once in Aircraft Carrier Lv.1 and twice in Aircraft Carrier Lv.2, which makes it harder to complete both missions. However, the Mk 45 makes it an easy picking; first aim at its two boilers. After you shoot them twice to make sure they are destroyed, you then aim at its port or starboard side. if you own a 4x5 gun or larger, after completing these steps the ship becomes a sitting duck.
The Scorpius II is armed with dual 38 cm guns, two oxygen torpedo tubes and a 30.5+ gun in the back. Destroying the torpedo launchers makes Scorpius II nearly useless against large ships.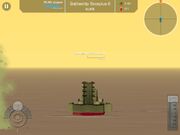 Battle Tactics
Due to the Scorpius II's heavy guns and torpedoes, a player's best chance of defeating the Scorpius II is to aim for its boilers, severely damaging the battleship's speed and subsequent combat effectiveness.
In addition, it is vital that the player destroys the Scorpius II before it has the opportunity to launch a salvo of torpedoes at you. Make sure that you have powerful, long range guns in order to do this. I myself strongly recommend the Mark 45 5 inch guns along with 30.5 inch guns to give you the best possible chance of defeating the Scorpius II.
Page Is Incomplete