Not to be confused with the user USS Enterprise CVN-65.
The USS Enterprise CV-6 is a purchasable aircraft carrier from the Dock.
History
The USS Enterprise was a Yorktown-class aircraft carrier that served in WWII. Although it was the seventh US naval vessel to bear the name "Enterprise", it was the first carrier to be named so, and would start a tradition that all future US Navy Enterprises will be carriers. Nicknamed "Big E" in the US Navy, it was also the most decorated ship in the war, receiving 20 out of 22 possible Battle Stars. After the war, multiple attempts to keep Enterprise as a museum or memorial were unsuccessful. It was scrapped on 1960.
Honors and Awards
1 Campaign Star
20 Battle Stars
Presidential Unit Citation
Navy Unit Commendation
American Defense Service Medal
American Campaign Medal
Asiatic - Pacific Campaign Medal
WWII Victory Medal
Philippines Presidential Unit Citation
Philippines Liberation Medal
British Admiralty Pennant
In Game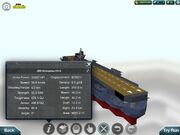 The USS Enterprise CV-6 is available for purchase for 300,000 resource. Included with it is a single SBD Dauntless dive bomber. It's weaponry includes many 47mm RFGs and 12.7 cm guns. It is probably best to replace the majority of the RFGs with 25 mm AA guns. Two aircraft carrier boilers give it a speed of 58.6 Knots. Its armor mostly consists of 400 mm lightweight pieces of various sizes.
Versus the Shinano
Compared to the other purchasable carrier,the Japanese Shinano, the Enterprise appears weaker. The Enterprise stands around 4:00 In Game minutes in Duel Lvl 10, and the Shinano only lasts about 2:39 In Game minutes; the Enterprise has more armor. The Shinano has heavier guns. However, considering that carriers shouldn't get caught up in a gun fight, this isn't really a factor. Ultimately, it's personal choice which one to buy.